The building, locally called Carbonhaus, on the campus of the Technical University of Dresden in Germany, is the first building to be built entirely using carbon reinforced reinforcement. The building's footprint is 2200 sqft (approximately 205 m2) and its budget is 5 million Euros.
Carbonhaus consist of two main parts: Pre-cast box and twist. The building material of the roof, which has a double curve, is light and bendable reinforced concrete. The building will contain a classroom, laboratory, presentation areas and a small kitchen. The most impressive point of the building is its 24 meters wide and double curved smooth reinforced concrete roof, which is also an engineering marvel. The architectural design of the Carbonhaus building was done by Gunter Henn, owner of the Munich-based architectural firm HENN. The structural engineering of the building was provided by Architeckten Ingenieure Batzen (AIB).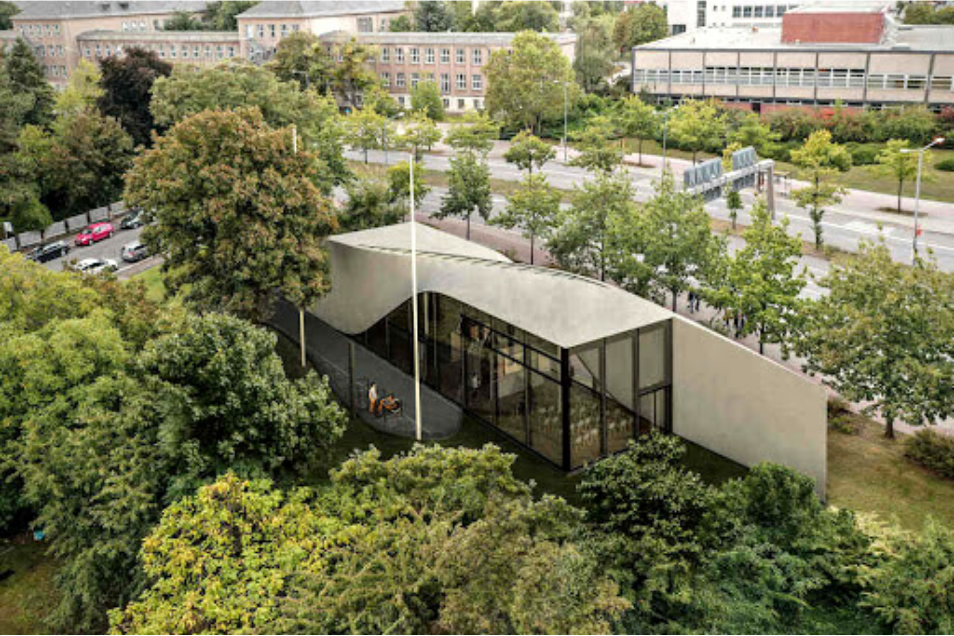 Manfred Curbach, director and professor at the Institute of Concrete Construction at the Technical University of Dresden, said of Carbonhaus: "They laughed at us when we published our first results on carbon-enhanced concrete. They said that this is nonsense and that in 3 years this idea will disappear. It was 1998 when they said that. Despite all the difficulties after 23 years, we are currently constructing the reinforced concrete structure of the world, which is completely equipped with carbon fiber, at our university. We can characterize this discovery as a quantum leap for the history of civil engineering."
Concrete equipped with carbon fiber was named "Carbon Concrete Composite". It is also called C3 and CUBE.
What is Carbon Fiber Reinforced Concrete?
Concrete equipped with carbon fiber is a composite material consisting of carbon fiber that provides strength and rigidity and polymers that hold the fibers together like a matrix. Micro and macrofibers can be natural or synthetic. The industry is in agreement that the life of the structure is extended in the buildings where this composite is used. The carbon fiber used for the CUBE is produced from petroleum-based polyacrylonitrile (PAN). It can also be produced from lignin, an organic polymer derived from waste materials from paper production. In addition, the Technical University of Munich is working on the production of carbon fiber from algae oil.
Usage Areas and Importance of Concrete Reinforced with Carbon Fiber
Concrete reinforced with carbon fiber offers more durability than standard reinforced concrete mixes and has a more environmentally friendly structure. Carbon fiber reinforcement is superior to conventional steel and concrete structural components in terms of resistance to cracking and wear. However, this new alternative is facing difficulties in terms of legislation and economy.
In typical reinforced concrete structures, a considerable amount of concrete is used to protect the steel from corrosion. Since 60-70% of the weight of the structure consists of dead load consisting of steel and concrete, it causes an undesirable situation in terms of cost. Experts define concrete and steel as "working in pairs, but not together". The resulting reinforced concrete material is still prone to cracking and wear. Thus, the lifetime of buildings and infrastructure is not as long as necessary. "They (concrete and steel) are designed for strength but not durability."
On the other hand, although carbon fiber reinforcement has one quarter of the unit weight of steel, its tensile strength is the same as steel. The resulting composite material is more durable and produces 70% less greenhouse gas. Although it takes 20 years for mass production to start and become widespread, it is a fact that CO2 emissions will be reduced when these conditions are met.
Concrete reinforced with carbon fiber can only be used to construct, renovate and strengthen bridges or buildings, but it has much more potential than that. He is developing a completely new style for the construction industry and our life. The interior walls we use with KFDB only have the chance to be a few centimeters wide. Thus, it can provide much more architectural options with elements such as thinness, aesthetics and lightness. Thus, the potential usage area can have a wide spectrum from the construction of our buildings, to the renovation and reinforcement of the architectural and landscaping applications.
Source: https://www.sanalsantiye.com/dunyanin-karbon-fiber-donati-kullanilan-ilk-yapisi-carbonhaus-2/